About Us

A. M. METALICS PVT. LTD., established in the year 2010, is a prominent Manufacturer, Supplier, and Exporter of Cast Iron Rolls, Metal Rolls and all types of Steel Rolling Mills. We manufacture forged and cast metal rolls from 300 KGS to 15,000 KGS in a finished weight of single roll, with range of Barrel Diameter starting from 300mm to 1000mm and the length of the rolls vary up to 5 meters. At our in-house manufacturing unit, Alloy Cast Steel, Adamite Rolls & Rings, Cast Iron Rolls, Forged Steel Rolls, Graphitic Steel Rolls, Spheroidal Graphite, Cast Iron Rolls, and other products are manufactured using world-class raw material, while following international quality standards. As a result, the products we offer are of superior grade, featuring sturdy construction, high efficiency, long functional life, and low maintenance requirement. These features drive the demand of our product in national and international markets.

We work with the goal to provide outstanding products at low cost to our valued clients, by following the principle of quality, commitment, technology, and unmatched services. Herein, we involve in Research and Development to identify the market requirement and accordingly align our processes and units thereby delivering excellent performance and extending the life of products with outstanding polishing works of the rolling products according the infrastructural requirement of the rolling mills.

Our Services

We have qualified and experienced technical representatives to provide guidance to customers on the specifications and suggestions on the common rolling problems. These representatives carefully consider all the factors of roll performance and accordingly deliver solutions to the milling companies.

Our Competitive Edge

We are leading the market owing to the following factors:

Premium quality products
On time delivery
Ethical business practices
Competitive prices
Years of experience
Professional business approach
Our Production Process

We follow Production Process, using latest technology and following market compliances. Our production process is enlisted below:

Melting: We have core-less induction melting furnaces to offer molten metal produce a variety of Metal Rolls Castings. Our furnaces are based on advanced technology, equipped with technically superior control equipment.
Casting: With latest metallurgical facilities at our unit, we are capable of producing high quality rolls as per the specifications provided by the customers. Advanced casting facility enables us to add value to the rolls life and reducing the maintenance practice.
Heat-Treatment: Following Multi Stage Controlled Temperature Cycle with Double Annealing, we carry out heat-treatment process to accomplish the desired physical properties to carry out the intended application. After this, tempering cycle is followed.
Machining: We have fully-furnished workshops with necessary machines and tools to maintain the dimensional precision and surface finish in the products. Our facilities include Machined as well as Finish Machined condition like Fiber Wobbler making, Neck-Grinding and Bearing-Size making.
Inspection and Testing: Strict quality control processes are followed during the selection of raw material and production of roll at different processes such as melting, casting and heat-treatment. Non-destructive and hardness tests are performed to ensure that customers are served best in class rolls.
Quality Assurance Plan of Cast Metal Rolls - Production

We are engaged in offering Metal Roll in customized designs to meet the application requirement. For the same, it is required to have certain characteristics, which is essential in meeting the critical condition during Hot Rolling:

Resistant to friction
Robust structure for mechanical resistant to withstand temperature change
Impact resistance reduce the chances of bending caused due to extensive load
Resistant to fire and thermal cracks on surface
Extensive machining ability for assembling with bearing
Resistance against Tensile load due to Hi RPM
To match up with this, we have followed a careful production process that enables us to achieve the quality parameters and required standards of finishing in the rolling products.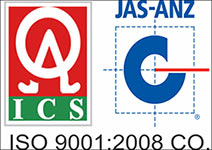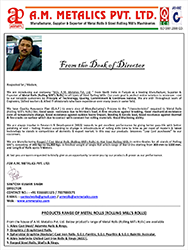 Read More